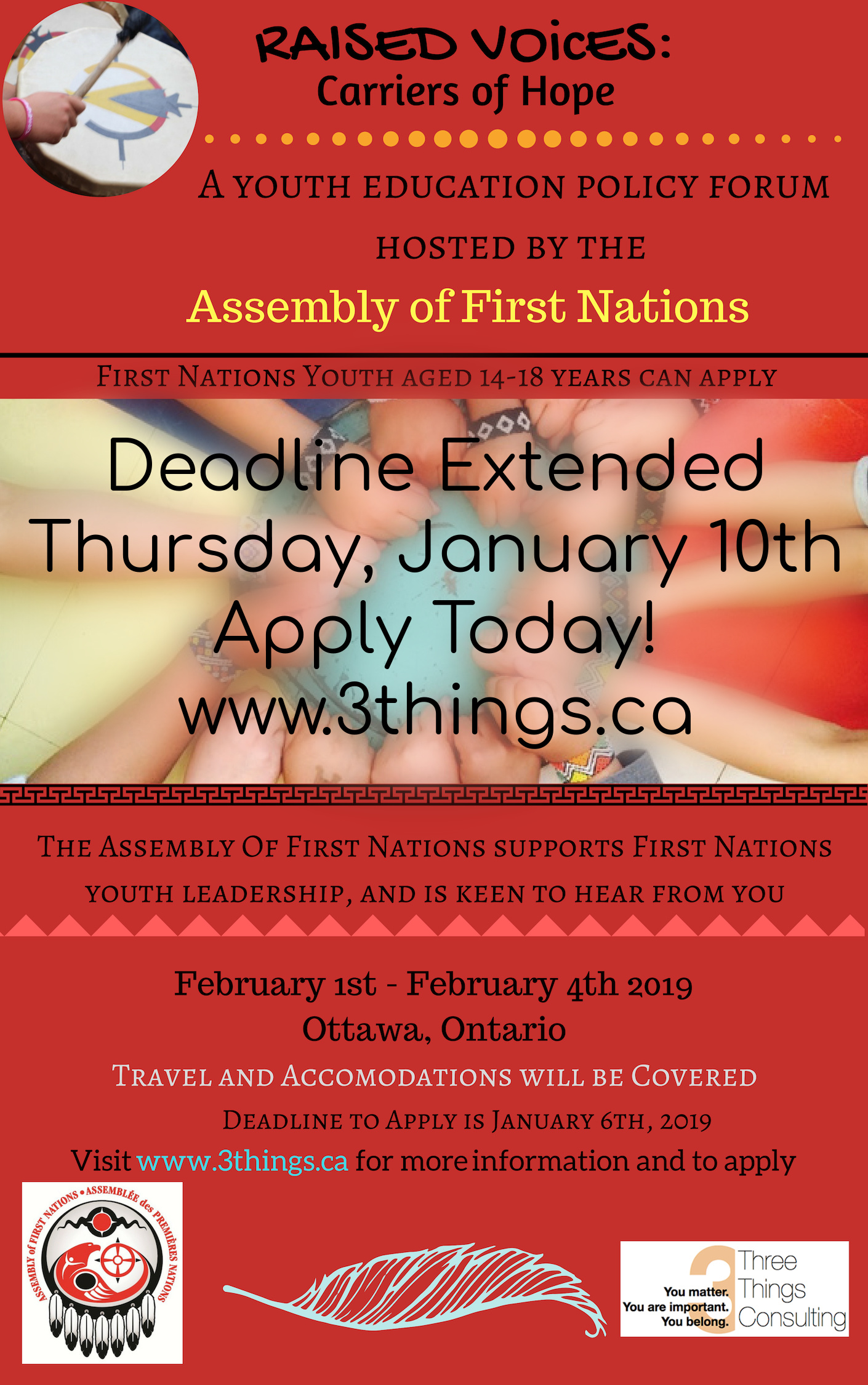 Applications have closed.
Thank you to each and every one of the more than 100 First Nations youth who applied to take part.  Your bravery and courage to put your name forward is honoured by our team.
Thank you to each of the adult allies who supported youth in their applications from every region across the country! Your support matters!

We will be notifying selected participants the week of January 14th - 18th, 2019!
Raised Voices: Carriers of Hope is a First Nations youth education policy forum hosted by the Assembly of First Nations, and designed and facilitated by the Nova Scotia-Newfoundland Regional Chief's Office and Three Things Consulting.
This event is geared to First Nations youth aged 14-18 years with diverse experiences; youth who may have faced challenges with school systems; those who have excelled;those who have been identified as leaders; and those who might not often take part in these kinds of activities.
Your voice matters and is essential to the future of First Nations education. We need your input to address your needs.
Together we will design better education systems.   The Assembly of First Nations supports First Nations youth leadership and is keen to hear from you.
Delegates will create a series of Calls to Action on First Nations Education – and have the chance to share those Calls with leaders, policy makers (the ones who often make decisions) and other allies.   Calls to Action is another way to say – really important ideas and recommendations!
The goal is for delegates to leave the conference inspired to continue creating positive change and contributing to something important to you and to the entire country.
Stay tuned to this page for updates!
Learn more by downloading the Raised Voices Carriers of Hope Overview
Email us with any questions at youmatter@3things.ca.